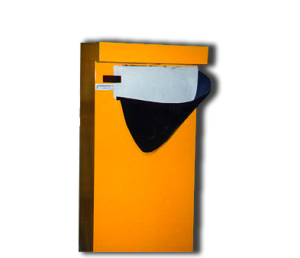 PSI's 954 Toll Hopper incorporates a coin sorter / counter in conjunction with a micro-processor controller. The 954 will accept nickels, dimes, quarters and dollar bills up to $7.95 total. It includes a token override for total fees. The 954 is designed to discriminate between cars and trucks for differential fees.
Transactions are started via loop detector for autos or infrared prior to loop detector for trucks. It contains automatic alarm output if patron has not satisfied the fee within a given time frame. Manual vend override, red/green light activation, and gate vend signals are standard. Each unit provides outputs for interface to 286 / 386 computer control. An escrow dump is available but requires a tunnel under unit to accept coins.
Upon activation, the amount owed is displayed on 3/4″ red LED displays. As monies are accepted, the unit counts down to zero. Fee schedules are settable via dip switches on processor board for both cars and trucks.
The cabinet is constructed of 16 GA. aluminized steel; the unit is zinc chromate primed and painted with two coats of automotive acrylic paint. The cabinet is 45-1/4″ high by 18-5/8″ deep by 21″ wide. The top is sloped for rain and has a 4″ overhang that contains a fluorescent lamp for illumination at night. The hopper is vinyl for flexibility and damage-resistance.
Access to the cabinet is via the locked back panel; all connections are a quick-disconnect type for ease of maintenance and removal of counter / sorter for lubrication and servicing.
PSI's Machine Readable Ticket is a 2 1/8″ x 6″ ticket with a magnetic stripe on one side. Top side is free for customer printing with the exception of a small area required for printing of the ticket number, dispenser number, hour, minute, day, and year. Tickets are supplied in fanfold bundles of 2000 tickets each.
Optional Capabilities:
Mechanical coin sorters
Self-locking cash vaults
Dollar bill acceptor
Bill stacker