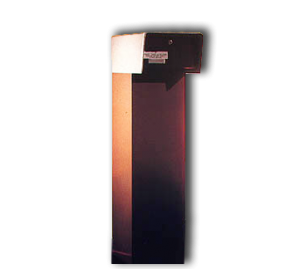 The Model 2700 Ticket Validator is designed to be located at the entrance or exit of a parking facility. Software variations allow the validator to function in various modes. Mode #1 as a rate changed that will change the rate encoded on the magnetic stripe of the ticket. Mode #2 has a ticket acceptor that will check for grace period and, if valid, accept the ticket and open the gate. Communication via fibre optic drive is available.
2700A Exit Validator
PSI's 2700A Exit Validator differs from the base Model 2700 in that if ticket is presented, the unit has time in advance of real time, ticket will be accepted and exit gate shall open. If ticket time is past real time, data shall be sent to a remote PC for calculation of additional fees to be collected. Fee total shall show up on LCD display on front of 2700A unit. At this point, patron shall have options: a) Insert credit card and pay additional fees or at owner's option; b) Press a return ticket button, take ticket back inside participating store and have it re-encoded for no charge at exit. If paid by credit card, patron has option to press receipt requested button to issue a printed receipt. If credit card acceptance is dictated by management, the credit card data will be downloaded to selected clearing house in night time hours and a printed record provided of charges accepted and sent for collection.
Option:
Addition of a Bill Acceptor on the right side to accept $1 and $5 bills in place of credit card. Upon acceptance ticket will be deposited into the ticket housing. These tickets may be retrieved and later run through PSI's 2720 time adcance module and utilized for free exit at event parking.