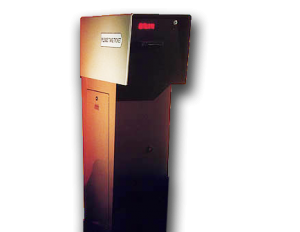 PSI's machine readable ticket dispenser writes and encodes data on the ticket issued in both man and machine readable formats. Upon signal to issue, man readable data is printed on the top of the ticket with a dot matrix printer. Upon completion of the printing, the same data is encoded on a magnetic stripe on the underside of the ticket.
Standard format of the printed & encoded data:
Time of issue
Date of issue (month/year)
Ticket dispenser number
Six-digit ticket number (not necessarily the printed number)
The above data is programmed through the use of a keypad at each dispenser.
PSI's machine readable ticket dispenser is designed to stand alone or be tied into a remote processor via fibre optics. Fibre optic cable interface allows data cable to be run in the same conduit as power with no signal interference. All controls and logic are plug-in printed circuit boards interconnected with ribbon cables. The processor board utilizes a four-year clock chip that has battery back-up to maintain time, date, ticket dispenser number, and ticket number in the event of a power failure.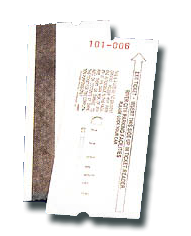 PSI's Machine Readable Ticket is a 2 1/8″ x 6″ ticket with a magnetic stripe on one side. Top side is free for customer printing with the exception of a small area required for printing of the ticket number, dispenser number, hour, minute, day, and year. Tickets are supplied in fanfold bundles of 2000 tickets each.