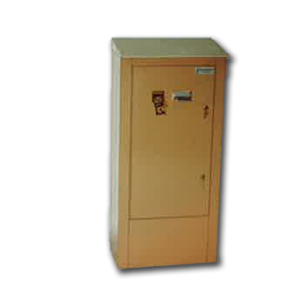 The housing shall be 13Ga. steel with a three-point locking door. The door shall be of aluminized steel. The entire cabinet shall be phosphate-treated, primed with zinc chromate, and painted with two coats of automotive paint.
Dollar Bill Acceptor accepts from $1 to $5 US dollar bills. This unit is the most reliable unit on the market. The unit makes three parity checks on each bill prior to acceptance. A solid-state printed circuit board inside allows for customer selection of fee structure through the setting of a rotary switch. Bill stacker will automatically stack up to 500 bills in an easily removable magazine.
Optional:
Non-resettable Audit Counter – five-digit display counts vends.
Coin Unit – The coin unit shall accept nickels, dimes, and quarters, US Standard Exchange pre-set fee from $.05 up to $3.15. The unit shall make change if an overage is deposited. The fees are deposited into a coin box secured with a lock. Coin box will hold $200. Coin acceptor mechanism shall be made of Delron plastic that will not rust or corrode.
Model 944A
Unit shall be dip switch selectable to accept $1, $2, $5, $10 or $20 bills. Selected fee $1.00 to $31.00 flat fee. Unit includes a bill stacker for 300 bills. Optional 500 bills.