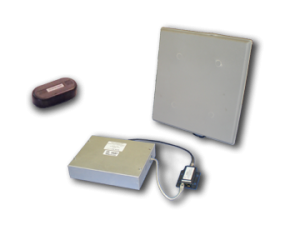 Access Control Read System is designed with superior quality and security in mind all with extensive engineering incorporated into the product to produce one of the finest long and short range read systems available.
The system consists of an R-2000-W, 26 bit long range reader, short range and directional reading is accomplished with the ANT-DVA directional antenna. The R-2000-W is mounted to an AVI directional housing which is an 8 inch diameter aluminum tube that is 52 inches high.
It is manufactured in two parts, allowing the reader, power supply, and/or access control module to be mounted inside. The read range can be programmed via a PC or laptop to a range of 5 – 150 feet depending upon user application. Unit Interfaces to a 26 bit Wiegand access controller. AVI, T-8000 tags are mounted to the vehicle window inside; optional windshield tag holder allows for movement between vehicles. Comes with a 5 year warranty on tags.