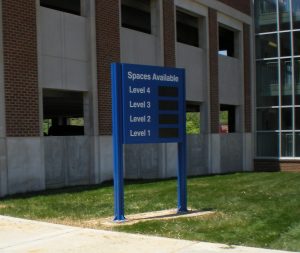 In the late 90's Parking Systems, Inc. founded in 1974 started developing its third generation #755 Capacity Counter capable of communicating with a central PC to control full signs at parking structures or levels of structures. Then in 2014 it upgraded its PC software to allow for displays of spaces available per structure or levels. This upgrade came with enhanced ability to communicate, report spaces per structures or levels and activity reports per hour/day/week/month. The MCS/JCL counter 2.0 manual shows this.
Overview
The MCSJCL Counter is a proprietary software to be used only with Parking Systems Inc. hardware. The Counter software interfaces with counters via Com or Ethernet and displays data reading counts and displaying them in selected panels. Signs for display to the customers can setup using Com only and communicate to the users how many spaces are left in the garage or levels if a counter is used for each level along with the appropriate loop detectors.
The software can be used to set up the garages, read the hardware counters and display various data to the signs. For information on setup and usage please read the manual.