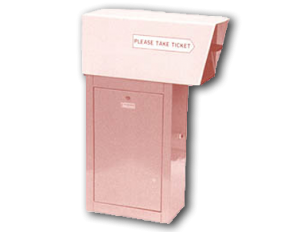 PSI's Ticket Dispensers are designed with sophisticated technology and proven reliability. Extremely cost-effective, the ticket dispensers provide superior operation and ease of maintenance.
Available in Time-Date and Machine Readable models, the Machine Readable model uses sophisticated magnetic stripe tickets that electronically encode information.
PSI's ticket dispenser issues a ticket with a buzzing sound for customer awareness. The ticket may be issued automatically as a vehicle is detected or by manual push button. When the ticket is removed the gate opens and an internal counter records the operation.
Features
Automatic or push button dispensing
RDTL control logic
Aluminized steel housing with environmentally resistant coating and paint
Locking weather sealed door
Hinged cover for ease of ticket loading and inspection
One 500 ticket capacity magazines
Standard low level light and alarm
Capabilities
Records in and out times
Automatic control with or without a gate
Computer revenue control available
Machine readable ticket encoder available
Mechanism
All operations with the exception with time-date stamping shall be mechanical in nature. Solenoid-operated cutter shall not be allowed. Ticket drive shall be by a shuttle driven by a cam and arm. Ticket chutes, shuttle and cutting assembly shall be of stainless steal to resist wear and corrosion. All other parts shall be zinc-plated to prevent corrosion. Built-in safety feature prevents issue of more than one ticket for each machine operation.
Logic
Logic controller shall be solid state with only Interface Relays. All logic is T2L contained on a plug-in circuit board. Controller shall contain a non-resettable counter which registers one digit for each ticket issued. In addition, tickets are sequentially numbered to provide a double check in auditing.
Indicators
A low-level light, located on the front surface of the housing, indicates a ticket level of less than 500 tickets when OFF. A buzzer indicates a ticket in the throat for customer. A ticket-jam alarm logic is built into controller. With the addition of one special relay, unit will indicate if a ticket jams in the machine.
Housing
Cold-rolled aluminum steel - 16Ga.
Finish - baked enamel (Traffic Yellow, White, or Earth Tones)
Height: 48" Width: 12" Depth: 27" including 6" overhang
Window opening shall provide view of illuminated clock face to driver
The housing is provided with removable top for easy access to mechanism. Lower housing door is removable for easy access to controller and stainless steel ticket magazine.